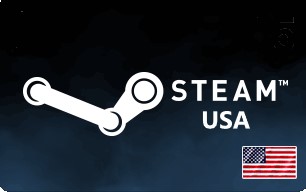 Steam $50
937
44.64

Op voorraad, bestel nu!
Buy a Steam Gift Card to top up your Steam Wallet in seconds
Need more Steam game credit fast? Or know someone who does? Buy your Steam Gift Card online with over 70 secure payment methods, including PayPal, and top up your Steam Wallet instantly. Your code arrives immediately in your inbox and also appears directly on your screen for even faster redemption. So no need to hit pause or leave home to grab more Steam credit. Even earn some extra SMSBeltegoed.nl spaarpunten when you buy your card, which can be exchanged for discounts on future SMSbeltegoed.nl purchases. Why wait? Grab your Steam Voucher today to keep gaming quickly and easily!
Why choose a Steam Voucher?
With its massive library of over 30,000 games to choose from, Steam has something for everyone - no matter which gaming genre you prefer. And a Steam Card is the ideal way to expand your library. You can refill your Steam Wallet with secure prepaid credit instead of linking your bank account, keeping those personal details private while also protecting your spending. All you need to do is redeem the instant top-up code you receive from us to get gaming! And with the Steam Spring Sales around the corner, now is the perfect time to load up your Steam Wallet.
What is Steam?
Launched in 2003, it has become the largest PC gaming platform worldwide, and possibly the most loved one too. With over 120 million gamers, the community is still growing and offers a place to hang out, discuss and play for every player. It is the ideal platform to store and play all your favorite games anytime on any computer with the free Steam client.
What can I buy with a Steam Card Code?
With your Steam Digital Gift Card, you can easily buy new games, DLC, expansions, in-game items and any other item you can purchase on Steam. There is also content available for PC, Max and Linux.
What is a Steam Wallet?
A Steam Wallet is the digital banking tool connected to your account. It allows users to store prepaid credit to make purchases on the platform. Easily reload your wallet balance with a gift card.
Do Steam Vouchers expire?
Nope! Your Steam Card code does not expire, nor does your online balance.
Are Steam Gift Cards region-locked?
Yes, Steam Cards are region-locked. Your Steam User Account is associated with a specific currency, which is shown in the top right corner of your Client. Therefore, the gift card currency must match that of the User Account it will be redeemed to.
How do I redeem a Steam Gift Card?
Go to the Steam Redeem page and log into your Steam account.

Enter your code into the "Steam Wallet Code" field.

Click "Continue" to redeem the code.

Done! The gift card value has been added to your Steam Wallet.
How do I contact Steam Customer Support?
Go to the Steam support page and search the drop-down menu for the issue you are facing for extra assistance.
Vertel een vriend over onze website!